Collections - Search Results
Search Results - Object Record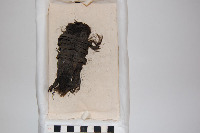 Enlarge Image
Key Information
Object Name:

hair accessory

Date/Period:

1001AD- 1300AD

Location on Display:

Museum - Not Currently on display

Accession No:

KINCM:2008.6067.80

Brief Description:

One beard tress; with a wooded stem running through the middle. Dates to 11th-13th century. Part of Finno Ugrian Culture. Grave goods excavated from a tumulus at Efaefsk (Efaevo), Russia, 1900. Early-Medieval.
Physical Information
Material:

hair; wood; copper alloy
Dimensions:
| Type | Height | Width | Depth | Diameter | Weight |
| --- | --- | --- | --- | --- | --- |
| | 110[mm] | | | | |