Collections - Search Results
Search Results - Object Record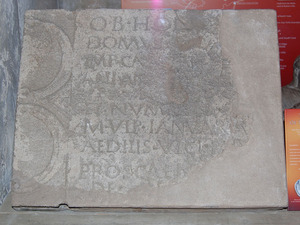 Enlarge Image
Key Information
Object Name:

plaque

Date/Period:

138

Location on Display:

Hull and East Riding Museum - Roman Gallery

Accession No:

KINCM:2000.195.489

Brief Description:

Stone theatre donation plaque. Inscribed, 'For the honour of the Divine House of the Emperor Caesar'. Excavated from the Romano-British town of 'Petuaria' at Brough, East Yorkshire, between 1933 and 1937. Roman.
Physical Information
Material:

stone

Description:

Stone theatre donation plaque. A thick limestone slab, 584 mm high and originally 940mm long. The well cut lettering is on a plain central panel, originally about 635mm long, flanked at each side by two crescent-shaped ornaments, forming together a peltaornament similar to those that so often occur on the distance slabs on the Antonine Wall, with which it is contemporary. In this triangular space is the letter 'C'. The surface had badly flaked in the centre and the right side and the upper edge of the stone had perished. It was split into thin laminae, running the whole length of the stone, and between these water and earth had penetrated, leaving it in a very fragile condition.
Dimensions:
| Type | Height | Width | Depth | Diameter | Weight |
| --- | --- | --- | --- | --- | --- |
| Approximate measurement | 584 | | | | |