Collections - Search Results
Search Results - Object Record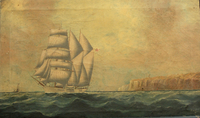 Enlarge Image
Key Information
Title:

Lord Brassey's Yacht

Object Name:

painting

Artist / Maker:

HOPPER, F. (signed)

Date/Period:

1900

Location on Display:

Museum - Not Currently on display

Accession No:

KINCM:1955.52.1

Other Numbers:

M1.211.76

Brief Description:

Oil painting entitled 'Lord Brassey's Yacht', painted by Fenson Hopper, 1900. Portside bow view of Lord Brassey's yacht in full sail off a cliffside coastline with flag flying from a tower at the top, by Fewson Hopper. The yacht has a Royal Naval ensign and crew on board, rigging and lifeboat at the centre deckside. Other vessels sailing on the horizon. Signed and dated at the bottom right, unframed.
Physical Information
Material:

oil; canvas; wood

Medium:

oil
Dimensions:
| Type | Height | Width | Depth | Diameter | Weight |
| --- | --- | --- | --- | --- | --- |
| unframed | 410[mm] | 660[mm] | | | |