Collections - Search Results
Search Results - Object Record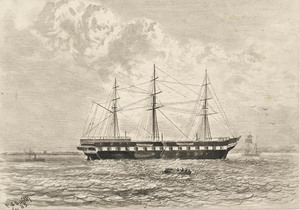 Enlarge Image
Key Information
Title:

The Training Ship 'Southampton'

Object Name:

drawing

Artist / Maker:

Smith, Frederick Schultz

Date/Period:

1885

Location on Display:

Museum - Not Currently on display

Accession No:

KINCM:1981.415.108

Brief Description:

Pen and ink drawing of the training ship 'Southampton' by Frederick Schultz Smith (1860-1925), 1885. The drawing shows the ship three-masted ship moored in the River Humber off Hull. A small steamer is visible to the left with men in a rowing boat in foreground. A further sailing vessel is visible in the right background. The 'Southampton', formerly the sea-going tender 'Ripple', was designated a training ship in 1866 and closed in 1912. Signed and dated 1885 by the artist at lower left corner.
Physical Information
Material:

card

Medium:

ink
Dimensions:
| Type | Height | Width | Depth | Diameter | Weight |
| --- | --- | --- | --- | --- | --- |
| | 115[mm] | 163[mm] | | | |