Amy Johnson (part 1)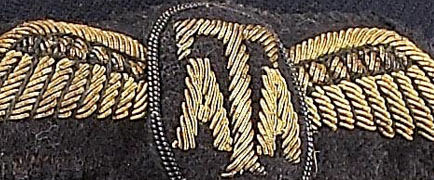 Amy Johnson was born on 1st July 1903. Her family were of Danish descent and were established fish merchants; Andrew Johnson Knudtzon & Co. She was also the granddaughter of a former Mayor of Hull, William Hodge (mayor 1860-1861), who presented Hull with the statue of Edward I which now stands in the Guildhall.
Amy lived with her family in the Boulevard area of town and moved several times within Hull before moving to Bridlington. She attended Boulevard Secondary School (now Kingston High School) between 1915 and 1922. Amy attended University at Sheffield and graduated with a BA degree in Economics in 1925, after which she returned to Hull to take a secretarial course.
Amy gets the flying bug
In 1926 she had her first experience of flying on a five shilling pleasure trip. In a letter she wrote 'Mollie [her sister] and I went up in the aeroplane. We both enjoyed it, but I would have liked to have done some stunts'. The following year she moved down to London to pursue a career in advertising.
In 1928 Amy paid to have some flying lessons with the London Aeroplane Club. Later the same year she obtained her pilot's licence and left her job to become a full-time mechanic at the de Havilland aerodrome in Stag Lane near Edgware, London. She got her private pilot's licence in July 1929 and in December the same year she became the first women to qualify as a ground engineer.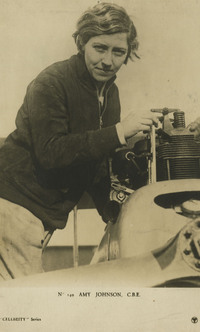 Flight from England to Australia 1930
In May 1930 Amy made her solo flight to Australia in a Gypsy Moth D.H.60 G-AAAH which she named Jason (the trademark of the Johnson family fish business). This plane can be seen in the Flight Gallery at the Science Museum, London. She was attempting to break Bert Hinkler's record of flying the 11,000 miles from England to Australia in less than 16 days. Although she did not break the record, taking just over 19 days to make the flight, she was the first women to make this flight and received considerable press coverage and quickly became one of the worlds best know personalities.
Amy received telegrams of congratulation from across the world including the King George V and Queen Mary and the British Prime Minster Ramsay MacDonald. She spent several weeks in Australia attending receptions, dinners and presentations.