Coaches of the Nobility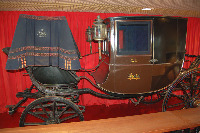 The coaches and carriages of the nobility were designed to reflect the status of their owners. These families wanted to show off their wealth and position by advertising their own ancestral colours in the painted livery or their family motto's and crests on the doors and bodywork.
Two fine examples in the collection of Hull Museums is the State Coach which bears the arms of Sir H. Readett-Bayley of Hunmanby, once Deputy Lieutenant of the East Riding of Yorkshire (below), and the Town Chariot of the Earl of Yarborough, Brocklesby Park, Lincolnshire (above), both dated to c.1860. They are richly decorated in the livery colours of the family, with padded, woven textile interiors, even on the ceiling and inside the doors. Each has a hammercloth cover over the coachman's seat at the front, again decorated with stitched ornamentation and tassels around the edges.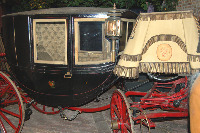 Of the two, the state coach was the more ornate, being reserved for civic ceremonies and driving to representations at the royal court. On these occasions the coachman and two footmen were in state livery which consisted of heavily braided velvet coats, knee breeches, white silk stockings and buckled shoes. They wore curled and powdered wigs with cocked hats for the footmen and a tricorn for the coachman. The footmen stood on a small platform at the back, while the coachman had control over the horses at the front.