T. R. Ferens (part 1)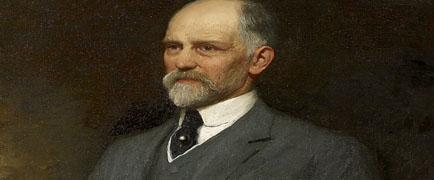 The name of Ferens is well-known throughout Hull. The city's Art Gallery bears his name, as does one of the main roads through the city, 'Ferensway'. It is quite surprising then that although he was a generous benefactor, successful businessman and M.P. in the city, he was not actually born in Hull, but in County Durham.
Thomas Robinson Ferens was born on 4th May, 1847 and was the son of a Miller. He moved to Hull in 1868 at the age of 19 when he began working as a clerk to Mr James Reckitt. He progressed through the company of Reckitt and Sons, taking on the roles of Secretary, then General Manager and eventually Chairman. He became a wealthy industrialist, with an old Hull saying that 'Reckitt's Blue made Ferens' gold'.
Benefactor
Although Ferens became very wealthy, his Methodist up-bringing meant that he had no desire for luxurious living. He regarded the possession of wealth as a stewardship for him to use to benefit others. Accordingly, he made gifts to the city totalling more than one million pounds. It is for these generous gifts that he is best remembered. Ferens helped to fund a variety of causes and contributed to the formation of Hull University, the hospital and the city's art gallery.
Art Gallery
Ferens had a great love of art and he also believed that works could have both a moral and spiritual effect on the viewer. In view of this he gave 5000 pounds in 1905 for the purchase of new works for the city. He also started to campaign for a dedicated art gallery as he was dissatisfied with the display space for art in the Albion Street Museum.
In 1917 he offered 35,000 pounds and the site of St John's Church, Queen Victoria Square for the construction of a new art gallery. The Ferens Art Gallery was opened in November 1927 and the following year Ferens provided a 20,000 pounds covenant for the purchase of new works of art.
During his life, Ferens acquired almost forty paintings which he either presented to the gallery or gave by bequest. These tended to be High Victorian works by well established artists that were purchased from the annual Royal Academy exhibitions. Paintings include Herbert Draper's 'Ulysses and the Sirens', Edgar Bundy's, 'The Night School' and Edward Atkinson Hornel's 'Lace Makers'. Two marble busts by Canart and Foggini were also bought which are earlier, being eighteenth century in date.
Other donations
Ferens generously gave 250,000 pounds towards the founding of Hull's new University College. He also supplied the original 18 acre site on Cottingham Road. The foundation stone for the new University College was laid in 1928, by the Prince of Wales. Once the College was built, Ferens endowed a further 240,000 pounds.
He also gave some land for the East Park in East Hull and paid for the building of the Ferens Boating Lake in 1913 within the Park, which was further extended in 1923. Ferens thought of both young and old and gave 14 acres of land for a recreation ground for the Young People's Institute, as well as providing funding for twelve almshouses, known as the 'Ferens Rest Homes' for elderly people.