'Interior of a Wallpaper Manufacturers Workshop'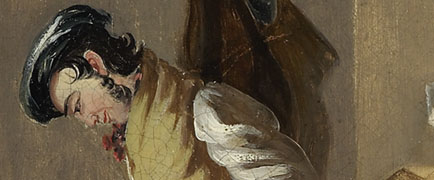 The painting depicts the interior of Hardy's wallpaper printing workshop at Junction Dock Street, Hull. It is thought to show work being carried out at the premises around 1840-45. It is of particular interest because it shows the three main stages involved in the production of printed wallpaper using woodblocks at this time.
Stage 1 - printing
Firstly, a man to the left is using a weighted treadle to position a printing block on the wallpaper. He is standing and working at a window which allows plentiful light to enable him to see where the block edges need to align for the pattern to be accurately delivered on the paper. He may have been printing with either a black/colour printing medium or with an adhesive.
Stage 2 - flocking
It has been suggested that 'flocked' wallpaper is being produced in this scene. These were wallpapers that had a slightly raised textile design on the flat ground of the paper. They started to be produced around the end of the seventeenth century and copied the process that had already been used for decorating furnishing textiles.
Adhesive was used as part of the process of making 'flocked' wallpapers. It was printed as a design onto the wallpaper and then 'flock', or processed woollen fibres, were shaken through a sieve onto the prepared paper. The flock would stick to the areas that had the printed glue surface and could be easily removed from unprinted areas. The man who is working in the left corner of the room may be involved in this stage of the process.
Stage 3 - drying
Finally, on the right side of the painting, lengths of printed and flocked wallpapers are hanging from the ceiling to dry. Once dry, the lengths are being rolled up by the figure on the right. Prior to this, wallpaper was produced in short sections which were joined together to form a roll and this process was much more time-consuming.
Slightly after the date of this painting, wallpaper started to be produced even more efficiently by machine printing. Whole rolls of paper were continuously fed through mechanised metal or wooden printing rollers which each delivered a different colour for the design.
Hardy's
Hardy's wallpaper manufactory was a family business, run by Mary Hardy and her son William. Trade Directories record that the Junction Dock Street address was occupied by the business in 1842 and in 1857. In 1846 at around the time that this scene was painted, there were six wallpaper manufacturers in Hull, but by 1857 the number had dwindled to three and William Hardy was listed simply as a 'Paper Hanger', so was probably no longer manufacturing papers.