R.38 Airship: Disaster Over the Humber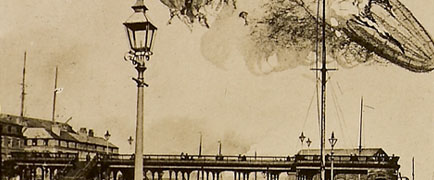 The Largest Airship in the World
During the latter stages of the First World War a number of airships had been commissioned by the Government. The order for the R.38 was taken up by Short Brothers at Cardington in February 1919 and work started on what promised to be the largest airship in the world.
However, with the end of the First World War England's economy slumped and the Treasury had to re-evaluate its spending. Naturally this led to problems with the construction of the R.38. (Other airship orders were cancelled and most of the existing airships were either sold off or broken up). Consequently, the order for the R.38 was cancelled and Short Brothers were compensated for the loss of the contract.
Construction Begins
At the end of the war German airships were divided between the European allies as laid out in the Treaty of Versailles. The Americans decided that they wanted a large rigid airship and so the R.38 contract was offered to them in October 1919. For 2.5 million pounds the British agreed to build the R.38 and train its crew and officers.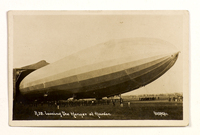 The Americans agreed and a delivery date of 'late 1920' was arranged. Progress was slow on the construction of the ship and she was finally completed on the 7th June 1921. Because of this delay and the pressure to get her flying there was no chance to change her registration from R.38 to the American ZR2. Therefore, she flew with the US insignia markings on the outer cover and also her British registration R.38 on her first flight, the plan being to convert her to ZR2 when she reached Howden.
Disaster strikes
Doubts about the airships strength arose after she sustained damage during the flight between Cardington and Howden but after her fourth trial flight the R.38/ZR2 was ready the fly to Pulham, Norfolk. On arrival at Pulham the R.38/ZR2 was unable to land as the airfield was obscured by fog and when the fog had not cleared by the next morning it was decided that they should return to Howden and carry out some more trials en route.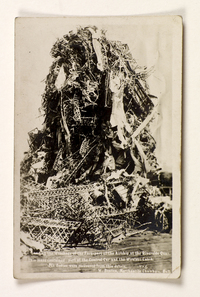 It was whilst carrying out this test flight over the Humber on the 24th August that disaster struck. The airship broke into two after the ship seemed to crumple in the middle. There were two explosions in the front section which caused the deaths of forty-four crew. Five members who had been in the tail section survived.
Original reports suggested that the airship had structural weaknesses which caused the crash but the Board of Inquiry offered no technical opinions on the crash. The Americans were offered the R.36 as compensation but it was estimated that they lost almost two million dollars as a result of the disaster.
There is a memorial in the Western cemetery on Spring Bank West, Hull, to commemorate all those who lost their lives.
Further reading
http://www.aht.ndirect.co.uk/airships/r38/