Flirty Flapper Fashion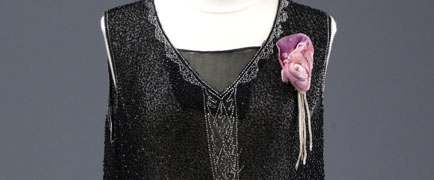 The 1920s were a time of great change, socially and economically, for everyone in Britain. After the First World War there were many changes. Women were more liberated, able to work and have leisure pursuits.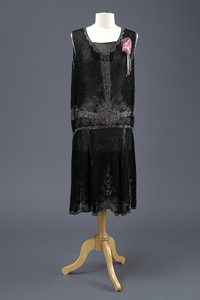 These changes were also reflected in fashion. It became a scandalous age when women would cut their hair short, wear make up, smoke cigarettes in public, and dance the night away to Jazz music!
Charleston Beauties
A fashionable 1920s girl would have worn a shapeless shift dress that has an undefined dropped waistline, long strings of beads and high heeled shoes with a strap bar. Evening wear would have been very elaborate with an uneven hemline, intricate beading and sequins.
This dress from the collection typifies this style of dress. It is made of black chiffon with black and clear beads that would have caught the light when dancing the night away. It is sleeveless and has a fabric rose corsage on the left shoulder with a defined dropped waistline decorated with a beaded pattern. Other dresses demonstrate the geometric designs that were popular in this period. Many evening dresses featured lots of tassels which would shake when dancing the popular dances such as The Charleston or The Black Bottom Stomp.
Daring Hemlines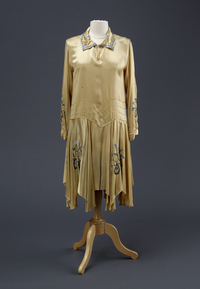 The hemline of the black evening dress is surprising long. It is a common misconception that all hemlines in the 1920s were above the knee. People at the time considered them dangerous high! But in reality most dresses were calf length, apart from a short period 1926-28 when hemlines reached just below the knee. This day dress has an uneven 'handkerchief' hemline which at it's shortest would reach just below the knee.
The Weight of Fashion
Beaded dresses like the one shown above weigh a tremendous amount and often don't survive very well. This is because the base fabric is often net or chiffon which are both very light material and can't support the weight of the beading that decorates it. Holes and tears are quiet common in dresses of this age. They have to be looked after very carefully and stored flat to prevent pressure on the fabric.