Plaster Casts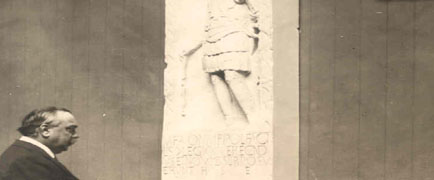 A large collection of plaster casts of Roman, Anglo-Saxon and Medieval inscriptions and sculpture were displayed in the Municipal Museum in Albion Street, Hull before the war.
As part of the background research for the Phoenix Project, team members came across old photographs of Thomas Sheppard studying copies of Roman inscriptions.
Amazing discovery
These copies were thought to have been destroyed in the Albion Street Museum in June 1943 when a German incendiary bomb gutted the building. But then Mrs. Barbara Kitchen, daughter of the second Director of Hull City Museums, Mr. J.B.Fay, suggested that the team look in the attic of Hull City Hall...
Under a tarpaulin, in the corner of the attic - there they were after nearly fifty years.
There are, in fact two separate collections of casts - one of medieval, and one of Roman period sculpture. The larger, medieval, collection was prepared by W. D. Keyworth for the Great Exhibition in 1851. It includes a series of plaster casts of architectural sculpture from Beverley Minster, St. Mary's Church, Beverley, Hedon Church and other ecclesiastical buildings in the region. There is also a copy of Anglo-Saxon cross from Easby, North Yorkshire, which dates to the eighth century AD. The centrepiece of the collection was a facsimile of the Walsingham font, possibly one of the most elaborate fonts in the country.
Roman Plaster Casts
The pre-war collections at the Municipal Museum also contained a collection of plaster casts of Roman inscriptions and sculpture featuring the finest examples of tombstones, dedication stones and religious sculpture yet found. For example there is a copy of the famous tombstone of Marcus Favonius Facilis, a Roman centurion in the Twentieth Legion, from Colchester.
There are, in addition, civilian tombstones from South Shields, and a dedication slab which records the completion of 4562 paces of the Antonine Wall by the Second Legion Augusta.
The Roman plaster casts were issued by the Society for the Promotion of Roman Studies in 1912. The illustrated catalogue from which Tom Sheppard ordered the set survives. The introduction explains the reasons for producing the plaster casts. It was hoped that 'such as selection of the sculpture of Roman Britain may both aid the study of this particular province and also further our understanding of the Roman and Graeco-Roman civilisation which during the Empire spread over western Europe.'
Several of the Roman plaster casts can be seen today in the Roman Gallery of the Hull and East Riding Museum. They are displayed with examples of the authentic Romano-British stonemason's handiwork such as the dedication slab from the theatre at Brough.