The Brantingham Geometric Mosaics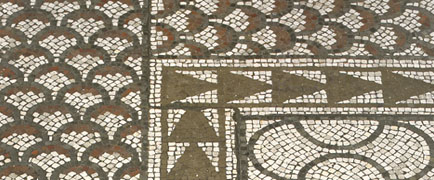 The Brantingham Geometric Mosaics
The Roman villa at Brantingham, 3km northwest of Brough in East Yorkshire, was first discovered in 1941 when two geometric mosaics were found in a stone quarry known as the 'Cockle Pits'. They were recorded and then reburied. What followed is one of the biggest mysteries in Yorkshire archaeology.
One of our mosaics is missing!
In 1948, members of staff from Hull Museums returned to the site. It had been decided to lift the mosaics and bring them to Hull for display in the Archaeology Museum. So they set to work to prepare them for transportation to the city. All seemed to be going smoothly, the mosaics were successfully lifted and all was set for their journey.
But on the eve of their departure the larger of the two, rather unimaginatively called 'The First Geometric Mosaic', was stolen! It has never been recovered. The smaller 'Second Geometric Mosaic' was however safely installed in the museum.
What we have lost
From drawings made at the time of discovery it is possible to reconstruct the design of the First Geometric Mosaic. It measured about 3.55 x 2.05m and had at its centre a motif resembling an open umbrella picked out in different-coloured tesserae all surrounded by a crow-stepped pattern and another circle, this time of guilloche. On either side of the central panel were two smaller squares, one with a chess-board motif in red and white and the other bearing an endless knot.
One's better than nothing!
The Second Geometric Mosaic was thankfully left behind and can be seen in the Roman Gallery of the Hull and East Riding Museum. It measured 2.74m square and features a very unusual 'running pelta' pattern in the centre framed by triangles placed end-to-end as a border. Around the outside is a wider border of over-lapping scales - giving the mosaic its alternative name of 'The Scales Mosaic'.
Stepping into the past
The Scales Mosaic wasn't lifted in one piece, like the Venus Mosaic from Rudston or the Tyche Mosaic which was found at Brantingham in 1971. Instead it was dismantled, after it had been carefully drawn, and the tesserae sorted into bags. They were then re-set in concrete as separate slabs. One of these slabs has been used a part of the walkway in the Roman Gallery at the Hull and East Riding Museum - so if you visit you can actually walk on the same floor that the inhabitants of the villa at Brantingham did nearly 1700 years ago.