Mr Walter Thomas Castelow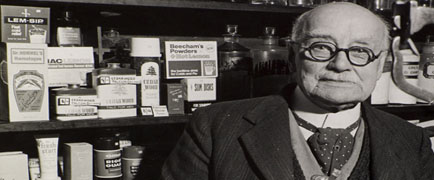 Walter Thomas Castelow was born, 16th January, 1876 in Kirkgate, near Leeds. Castelow was locally educated at Middle Class School, Vernon Road, Leeds, before attending the Yorkshire College, now Leeds University. Working life began in 1894, when at the age of 16 he signed indentures as an apprentice for Messrs. Abbot and Anning, of Fenton Street, Leeds.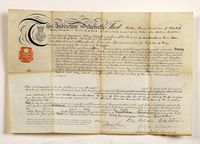 Three years later the young Mr Castelow qualified as a dispensing chemist from the University of Edinburgh, and soon after went into partnership with Johann Reinhardt of Victoria Street, Leeds. In 1907 Mr Castelow began business on his own and moved into the premises at 159 Woodhouse Lane.
Retire? Why Should I?
Mr Castelow was a well respected and admired chemist; not only by his contemporaries but also by the community he served so tirelessly. As England's oldest practising chemist Mr Castelow featured in numerous local and national newspaper articles and even on the television. Despite such attention and acclaim, Mr Castelow never had any thoughts of retirement, simply remarking 'Why should I?'
He was truly committed to his job; he never took a holiday away from work and was determined to maintain his long business hours even in his advanced years, opening 9pm weekdays, 11pm Saturdays and even opening on Sunday's. He served with such dedication that many customers were to become firm friends, even referring to the old man as 'Dad'.
Walter Thomas Castelow died on May 30th, 1974 at the age of 98. As his obituary read 'Almost up to the last, he remained the most charming, interesting and industrious chemist... the help, encouragement, and assurance that he gave must have gone out to many thousands of people during his long career.