The Discovery of the Hasholme Boat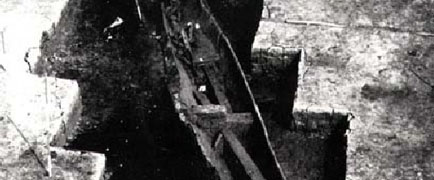 Discovery - From the Humber
On Sunday 29th July 1984 a discovery was made in the Humber near Holme on Spalding Moor. Archaeologists ahd dug drainage ditches in a field whilst undergoing a routine investigation on a nearby field. It was here that they uncovered a piece of wood that led to the discovery of the Iron Age Hasholme Log boat.
The Hasholme Boat was excavated from a former inlet of the Humber estuary by a joint team from the University of Durham including Dr Martin Millett, the East Riding Archaeological Society including Peter Halkon and the National Maritime Museum including Dr Sean McGrail. The project was co-ordinated by Kingston-upon-Hull Museums and funded by the Museums and Galleries Commission, the HBMC and the National Maritime Museum.
The Excavation
In August 1984 excavation began on the vessel. A large area of topsoil was removed by machine a metre down. For several weeks the archaeologists carefully removed by hand the sticky clay silt that covered the vessel. The entire vessel was revealed for the first time in 2000 years. The archaeologists took samples of pollen, seeds and insect remains to learn more about the life of the boat.
It was obvious that after a number of years of modern drainage the log boat would not survive. After much consultation it was decided that to salvage the log boat for detailed study and display was the best solution
Rescue-Not an Easy Task!
The boat weighed about six tonnes and was very fragile. The area around the site was also too boggy to hold a heavy crane so it was decided to pull the boat out of the ground supported into a rigid steel frame. A heavy vehicle recovery winch was driven into position and hooked up to the cable fixed to chains at one end of the steel frame.The winch turned and the tightened cable took the strain; inch by inch the steel frame began to slide. The boat was on the move!
The log boat was taken 250 miles to The National Maritime Museum in Greenwich, London, to undergo detailed recording and analysis. It was sprayed and kept there for eighteen months. It then had to be stored while it's display in the Hull and East Riding Museum was being prepared. It was decided to use the Beverley Road baths which were disused at that time. It was kept there where it could be sprayed and could seen by the public for two years. It was then taken to it's final, permanent place where it was installed into it's specially built display area with a boat lab. The boat can still be found in the Hull and East Riding Museum today.