Dutch 17th Century Landscapes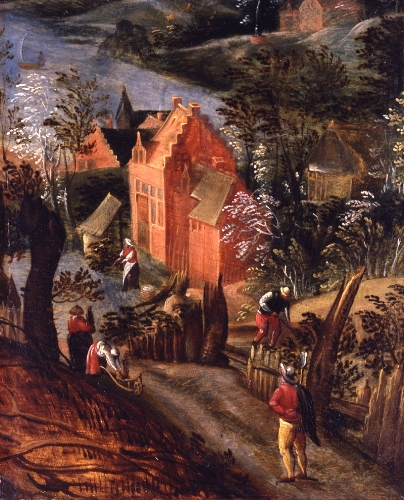 Landscape as a Genre
Before the development of landscape as an independent subject for painting in 17th century Holland, it was used as a background setting to religious and historical works of art in which figures were predominant. The painting of a particular landscape, concentrating on local weather, environment and the physical character of a place began developing around the city of Haarlem in Holland.
The Natural World
The early use of figures as integral to a surrounding landscape rather than as the central focus of a painting, are, 'Two fragments of a landscape: February', attributed to Pieter Stevens the Younger working for Emperor Rudolf II in Prague. These reflect earlier works by Brueghel, founder of a Flemish school of painting in the 16th century, who combined landscape in equal balance with the activities of their native communities. They followed the pattern of the seasons and climate that governed medieval peasant society in the Netherlands.
Another example of this observation of country life in Holland is, 'Winter Landscape' by Nicolaes Molenaer, a follower of the popular landscape artist, Jacob van Ruisdael. Like Breughel it demonstrates the suspension of normal farming and fishing activities during the frozen winter months. In 'Wooded landscape with cornfields' Ruisdael reflects the variety and spirit of Gelderland, in which ancient oak trees could be seen before they were cut down for shipbuilding, around a Dutch farmstead at harvest time.
History and Topography
Other examples of the Dutch landscape tradition can be seen in works such as, 'Washerwomen at the foot of the Torre delle Milizie' by Wijk, which includes the daily life of a working town among important local landmarks like the tower of the title and its landscape setting. There is also the inclusion of a scene with clashing military figures on horseback amid a typical lowland clearing among trees in 'A Skirmish of Cavalry' by Abraham van der Hoeff. Other paintings concentrate more on historical and architectural details in views of urban or rural sites, such as 'View of Het Valckhof, Nijmegen' by Berkhout, or the port scene, 'View of Leuvenhaven, Rotterdam' drawn in reed pen and sepia ink by A.C. Salm.