Late 18th and early 19th British and European Landscapes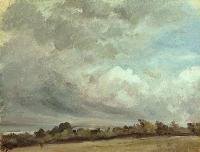 Dutch Tradition
Late 18th and early 19th Century British Art revived the Dutch landscape tradition of focussing on the natural environment in contrast to the practice of placing landowners against a background of their landed estates. From the late 18th century a new merchant and industrial class, began to gain an interest in pure landscape painting as new patrons of Art.
Neo-Classicism and Regional Schools
Italianate landscapes in the Grand Style were inspired by earlier classical style landscapes of the French 17th Century masters, Claude Lorrain and N. Poussin. This can be seen in the works of British artists of the 18th century such as A.Cozens, Richard Wilson and P. Nasmyth, who composed perfectly balanced vistas of tree framed rivers and mountain valleys. These draw on both the Dutch and Italian landscape traditions. Regional versions of this type, were developed by local landscape schools throughout England in and around Norwich, Lincoln, Yorkshire and Derbyshire, by artists such as J. Sell Cotman, Thomas Girtin and John Rathbone.
Realism
Another branch of regional landscape painting in early 19th century Britain grew out of the Dutch realist tradition. These show intimate portraits of a particular local landscape and its working environment. English examples of this can be seen in the works of George Morland and Edmund Bristow around London and more locally, Peter de Wint, in 'On the River Witham'. J.C. Ibbetson, working in the Lake District developed a fine local variation on the Dutch landscape tradition in his rustic lakeside scenes or picturesque farms among the Cumberland fells.
Naturalism and Topography
Truth to nature in the works of Constable and Turner revolutionised landscape painting by working directly from the natural subject and in the landscape of the early 1800s, as Constable has clearly done in his 'Cloud Study'. Other artists were more concerned with the historical formation and layout of a view, such as John Varley and his pupils, David Cox and A.V. Copley Fielding.
'Loading timber wagon in the grounds of Cave Castle, Yorkshire' by G. Arnald is an example of the natural and human formation of the land, with an unusual side view of the newly built neo-Gothic Cave Castle. Striking views of working life in open countryside around Glastonbury or the Thames valley can be seen in the watercolours of a follower of Turner, James Baker Pyne. The French coast is also brought vividly to life by the works of R.P. Bonington or Le Prince, with rugged and open shorelines inhabited by local fishing communities in the examples, 'Coast scene in Picardy' or 'Beach scene with figures'.
Coast and River Scenes
Coastal and river scenes play an important part in the collections of the Ferens Art Gallery, from its base within the old shipping and fishing port of Kingston upon Hull. These include local views such as 'Shipyard at Hessle Cliffs' by J. Wilson Carmichael. Other British estuary waters are illustrated in Thomas Luny's views of Plymouth harbour and bankside views of the Thames from Limehouse Reach to Westminster Bridge by various artists. A European parallel to these works, can be seen in an early painting of the Grand Canal in Venice by the Venetian master, Canaletto.