Romans Through the Looking Glass: Roman Glassware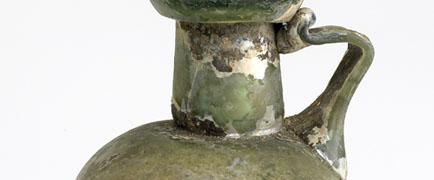 Unlike pottery, metals and wood, glass is a very fragile material to make vessels out of. It often breaks and is very rarely found in its original condition, with little of it surviving from archaeological sites. However, at the Hull and East Riding Museum, there is a collection of Roman Glass from the Middle East and Egypt that is fascinating not only for its beauty but also for its completeness. The bottles, vases and dishes come in all different sizes, styles and colours and represent some of the best craft skills that the Roman Empire had to offer.
The Origins of Glassmaking
The glass used in Britain before the Roman invasion was in the form of beads, and more rarely bangles. It wasn't until glassblowing techniques were invented and perfected in the first century BC that the production of glassware became widespread across the Roman Empire.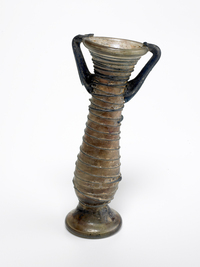 Its influences came firstly from Syria and Alexandria in Egypt, but by the time of the invasion of Britain in the first century AD, glass manufacturing centres had sprung up in Gaul (France), the Rhineland (Germany), Italy and Egypt. There is also evidence for glassmaking in Britain at sites in London, Colchester and York amongst others.
Glass was used to make many different vessel forms. As well as cast cups and bowls, mould-blown decorated serving vessels, like flagons and dishes were also made. Cosmetic and ointment bottles known as unguentaria were also produced in different sizes, shapes and colours.
Some of the most usable and widespread glass vessels were square-handled storage bottles, normally green/blue in colour and much thicker than the ornate cosmetic bottles. Examples of these have been found at Roman period sites in East Yorkshire such as at Shiptonthorpe. Glass bangles and beads have also been found; these again, vary in colour and technique.
Glass in its Different Forms
Decoration on the glass could be achieved in a number of ways. Glass blown into a mould could produce ornate decoration of figures, animals and foliage.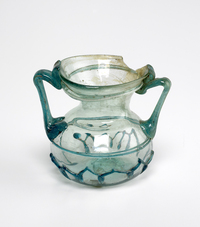 Other production methods like cut decoration or trailing molten glass across the surface of the vessel were also employed. Some examples of these different kinds of decoration can be seen on the collection on display. The colour of many of the glass pieces also differed; it could range from blue and green to amber and yellow. Some of the most striking colours can be seen in the bangle fragments.
The more detailed and finer the glassware was, the more expensive it was to buy, particularly if it was colourless and transparent. This meant that the very decorative vessels would only be used by the very wealthy. But towards the end of the Roman occupation in Britain, plain, undecorated glass had become cheap enough to replace ceramic tableware. Glass vessels, however were still highly prized and decorative pieces in some cases, would even be buried with their owner when they died.