Purchasing for the People! Vincent Galloway Part 2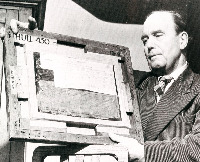 Marine Paintings
Galloway also oversaw the acquisition of many of the Gallery's marine paintings and those by local artists. Therefore, helping to develop a comprehensive overview of local art, often referred to as the Hull School, which complemented mainstream English painting. Many pictures of local significance were purchased for relatively modest sums from the Ferens Endowment Fund.
It is fortunate for the Gallery that Galloway was particularly enthusiastic about the merits of John Ward of Hull, and during his time at the Gallery he acquired a significant amount of his work. Including the acquisition in 1955 of Ward's masterpiece, 'The Return of the William Lee', which he brought for £200.
Aside from Galloway's determination to collect works representing the local Hull School he organised a number of key exhibitions including a historic marine exhibition which was part of the Festival of Britain in 1951. It was the largest and most comprehensive collection of marine art ever organised and brought together over 290 works, many of which were by local artists. To coincide with this exhibition he brought up to date a 'Directory of Hull and East Riding Marine Artists'. The exhibition and publication put John Ward and Hull Marine artists on the map of English painting.
Brangwyn
Galloway was on friendly terms with Brangwyn and it was a friendship which resulted in a remarkable and very substantial bequest of works by Brangwyn. These included 21 etchings donated in 1931 and the oil painting of Venice, 'Santa Maria Della Salute' in 1934. In the 1930s Brangwyn was very well known, but increasingly his style was regarded as 'old fashioned' and fell out of favour - it is only recently that his reputation has been revived. Luckily, Galloway was in no doubt as to his remarkable artistic achievements and gave him much recognition and encouragement.
Duveen Bequest
One of the key characteristics of the Ferens is that contemporary work has always been collected, reflecting how art has and continues to change. Galloway did not perhaps have much of a reputation for purchasing contemporary work, but he did nonetheless recognise the importance of reflecting contemporary work - both in terms of collecting and also exhibitions.
Many of the contemporary works in the Ferens' collection were the direct result of another friendship - this time with Lord Duveen. Duveen was a native of Hull and had a long-standing association with the Gallery.
In 1926 the Duveen Paintings Fund was established. It was active from 1926 until 1929 and the works purchased by the Fund were stored at the Tate Gallery. On Duveen's death they were first of all offered to the Tate who selected six, after this first refusal was then given to the Ferens. Galloway selected 11 works which were officially presented in 1949. A further three, originally selected by the Tate, were also eventually offered to the Ferens, making a total of 14. The paintings reveal Duveen's commitment to the avant-garde.
Retirement
In 1960 Galloway retired and by this time the gallery had moved on considerably, it had a comprehensive marine collection, a good collection of work by artists active in Hull from the late18th century onwards, and a substantial number of Old Master paintings of the Netherlandish and Italian schools. He also developed a collection of 20th century British artists, paving the way for his successors.
In 1972 an exhibition of his own work was held at the Gallery, it featured many portraits of local personalities and historically famous people connected with the city.