Lightships and the Humber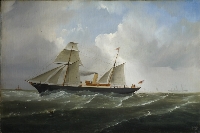 The constant movement of tides, shift seas and sand banks increases the hazards of shipping dramatically and has always been a problem for mariners working on the Humber as the North Sea and her tributaries deposit mud and sand into the river. One way to increase safety for mariners was to have a strong guiding light to act as a navigational aid around the changing sand banks. However in some instances, as with the River Humber, conventional lighthouses could not be used to aid a ships' navigation and alternative solutions were needed. It is from this need, the notion of a lightship (or light vessel) was born.
The first active petition for a lightship came in 1679 but was met with ridicule. Questions were raised about how such a small vessel could be held securely by a hemp rope and also where a crew could be found to man such a unstable vessel. As a result the first Lightship was a private endeavour by the adventurer Robert Hamblon who was stationed at the Nore at the entrance to the Thames in 1732.
Lightships on the Humber
However, it was another 88 years until the Humber received its first floating light vessel. In 1820 the Betsey was hired to prevent the wrecking and grounding of vessels along the Humber. It was not until after Betsey's withdrawal from service due to a collision with another vessel that Hull's seamen demanded a new light vessel to be made and orders were soon made for the construction of the Bull light vessel. Other predecessors of the Spurn included the Middle, and Hebble.
In 1926, the Humber Conservancy Board (who had taken over the administration of the Humber from Trinity House in 1907) advertised for tenders to build a new lightship. Twenty one tenders were received with the cheapest being from 'The Goole Shipping and Repairing Company' and they built the vessel for a total cost of 16,550 pounds [this is the equivalent to 690,000 pounds at todays prices]. The vessel was finally launched on 19th July 1927 and served the Humber at her station for almost 50 years only leaving her station during the Second World War and for repairs.
In 1959 a new Spurn was built costing almost 100,000 pounds when our Spurn was painted red and transferred to the Bull station. After sterling service as the Bull Lightship she was decommission in 1975 and was laid up until 1983 when Hull City Council bought her for 4025 pounds and started the process of her renovation to get her back to her original state. She opened to the public at her present berth in the Marina in February 1987.