Hull's One and Only Glass Company
This is piece of fancy glass was made in Hull. It looks black but the glass is in fact dark red. Examples of glass made in Hull are very rare.
Glass making is, alas, one of Hull's past industries. In 1846 a company was set up with the intention of making glass objects such as plate glass, bottle glass, sheet glass, and pipes for water and sewerage.
Premises out of town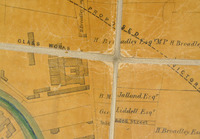 The Hull Glass Company, as it was known, had its premises near the River Hull at Wilmington. The site is now the Stagecoach bus depot.
This map dates from September 1848 and clearly shows the glass works on the left.
The small row of houses immediately below the glass works are 32 purpose built houses for glass workers called Swiss Buildings, although it is now known as Glass House Row. It was usual practice for manufacturers to bring workers from the Europe who were experts in their trade. Perhaps the immigrant workers for Hull Glass Company came from Switzerland, hence the name of the street.
A local trade directory lists at least 11 glass worker's families living in Swiss Buildings in 1848, but the census of 1851 shows that none of the glass workers live there anymore or in the surrounding streets. Unfortunately the company was not in business for very long. It no longer appears in trade directories after 1850.
A balance sheet dated 30th December 1848, just 2 years after the glass works opened, mentions that 'the works having been dormant three out of the six months'. Salaries and wages were still paid to the workers, but the work was clearly in decline.
Hull Museums have only a few examples of Hull glass, mostly collected in the early 20th century by Thomas Sheppard.