A Preface to the Transport Poster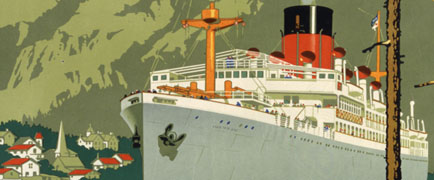 Early posters were very similar to a newspaper page. By the seventeenth century this format had begun to include a woodcut illustration, either a general image or one which illustrated the text directly.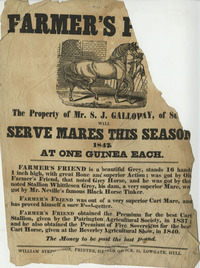 It was not until the second half of the nineteenth century that posters started to resemble those familiar to us, with the image dominating the space in order to attract the attention of passers by.
Leading the way
The modern poster originated in Paris and stems from the work of Jules Cheret who in 1866 began to produce full lithographic posters. Lithography enabled the creator to make many copies of the image without the quality of the final image being compromised.
Some of the most striking posters of the 1890s were those designed by Toulouse Lautrec. He used bold lines, caricature and simple flat shapes as well as beautiful colours and bold lettering. There was a poster boom in this period with many exhibitions and the production of limited editions for collectors.
There were many poster artists to follow, some producing work similar to the bold designs of Lautrec and others opting for more realistic styles. There are advantages and disadvantages to both approaches but it is safe to say that the best in poster art was, and is, original and eye-catching so that it serves its purpose (advertising, publicity, propaganda).
Companies catch on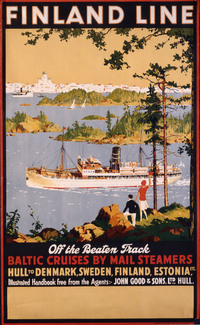 By the turn of the century, posters were being made to the order of railway and shipping companies. The content of a shipping poster was to give an impression of exciting destinations, speed and comfort as well practical information. Images of the ships, bystanders (exotic natives, passengers, lookers-on) and the destination all became familiar elements in the design of a shipping poster.
Railway companies throughout Britain employed artists to advertise the delights of visiting the seaside, mountains, moorlands and historic cities. Unfortunately the outbreak of the Second World War put an end to the production of all shipping and railway posters. The vehicle's movements now had a vital strategic importance rather than being means to visit places, whether exotic or local, for pleasure.
The period between the two World Wars was undoubtedly the heyday for the full colour illustrated poster. After 1945 posters began to return but their impact seems to have been increasingly lost. Less and less space is allotted to them in favour of television or magazine advertising.