Harry Hudson Rodmell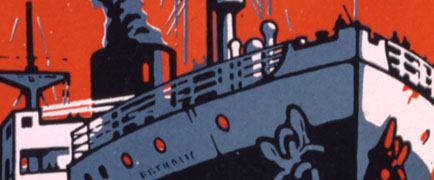 Harry Hudson Rodmell (born 1896) was encouraged to pursue art as a career from a very young age. In 1912 he entered the Hull School of Art with a two year scholarship.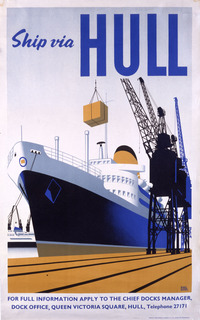 It is unsurprising that Hull born Rodmell would find inspiration down at the docks. They were his favourite spots to take his sketchpad and so he developed a love of ships and an in-depth knowledge of many types of vessel.This interest revealed itself in his work and he began to produce work of an extremely high quality, even at this young age. Whilst still at college he painted a picture of S.S.Eskimo which was of commercial poster quality. The design was bought by the owners (Wilson Line of Hull) of the vessel and loaned to hotels as an advertisement for the line.
Whilst he was tempted to concentrate on maritime subjects he made sure to develop a range of skills. Rodmell excelled in many subjects including etching, lithography, carving and illustration.
Prints get published
His first ever published magazine cover was for the Craven Street School Magazine in 1912. It was the start of things to come and many more were to follow. Some of his designs remained magazine covers and others were developed into striking posters. The earliest printed posters in the Rodmell Archive are dated 1920.
Many calendars that he made for well known shipping lines also survive from this early period in his career, as do a number of tidetables. A long series of these was made for the tug company Captain William Watkins of London. The series starts in 1926-1950 and then 1951-1968 when the company became Ship Towage. At 43 years this was his longest running commission!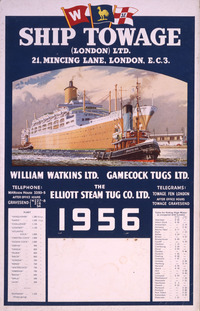 Whilst it is not surprising that the need for posters advertising recreational travel disappeared during the war, it is odd that his talent wasn't called upon more at this time. As a result, the majority of his shipping posters were published in the inter war period. Rodmell had a wealth of companies requesting his designs.
Sharing his skills
Rodmell was brought up in Hull and was proud of his city. As a result he involved himself closely with various civic projects intended to raise the city's profile. He worked alongside the Maritime Museum and Ferens Art Gallery as well as with local charities such as the Sailor's Children's Society. He also shared his talent by teaching school, college and community groups as well as donating pieces to raise funds.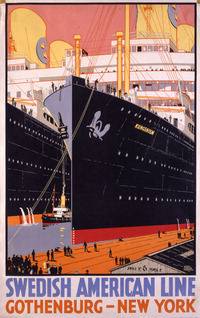 Harry Rodmell was a commercial artist of great professional skill and one of the outstanding poster makers of his generation. He was also a first class artist, constantly developing and eagerly embracing new materials.Throughout his career his work was often exhibited but never in a solo exhibition. He contributed to exhibitions organised by such bodies as the Society of Marine Artists, Royal Watercolour Society and the Hull Art Circle. It is remarkable that Rodmell's first one man show wasn't until 1984 and it is sad that this was not during his lifetime.