Artistic Flair - Aesthetic Dress of the 1880s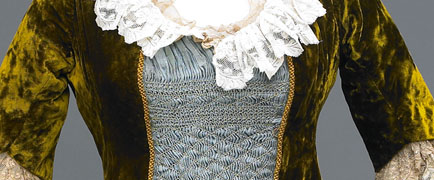 By the 1880s, women's fashion had left the wide skirted Crinoline of the 1860s and the full gathered lower skirts of the 1870s behind. However, the resulting fashion was no less restrictive or awkward. Bodices were still tightly corseted and skirts were bulky and heavily decorated, supported by bustle pads which emphasised the drapery, frills and swags which had become increasingly popular. This dress however, is very different. Its style is loose, and it lacks all the popular features of this period. Its style, colour and materials all are characteristic of what became known as 'Aesthetic Dress', which was popular with a minority group of people for the closing decades of the 19th century.
Style, cut and colours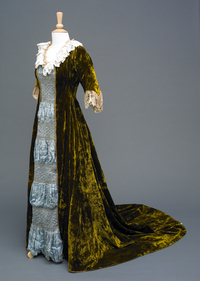 Aesthetic dress was part of a wider aesthetic movement, supported by artists and bohemians such as Oscar Wilde, who were rebelling against the contemporary fashion which they saw as restrictive, deforming to the natural figure and over embellished. Instead they preferred looser cut garments which followed the Medieval and Renaissance look in Pre-Raphelite paintings.
They believed looser, un-corseted styles were more conducive to good health, and could therefore show more natural beauty. In mainstream fashion, the use of bright and gaudy analine dyes was scorned by the Aesthetes, who preferred materials such as silk and velvet dyed in softer natural colours like sage green, amber and terracotta.
Collection example
This dress, from the costume collection is made from moss green velvet, and has a blue central panel with smocking; a popular feature of aesthetic dress. The dress is made from very natural looking colours, and the moss green with the central splash of bluealmost resembles a forest with waterfall. Patterns were never really made for Aesthetic gowns, which explains why they always differ so much in appearance. It gives the overall impression of a loose, comfortable gown - but don't be deceived! Underneath the outer layer is a lining that is structured with boning, meaning it is not as comfortable as it appears!
Bohemian Chic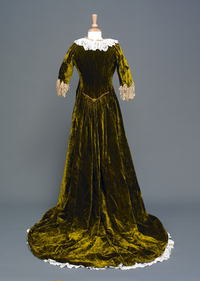 The Aesthetic style of dress was favoured by those in artistic and literary circles, and followed a natural ideal feminine look that echoed the women in paintings by Dante Gabriel Rossetti and Edward Burne Jones. The look included red hair and green eyes, both of which were contrary to standard Victorian ideals of beauty. The unkempt loose hair and loose style clothing led many contemporary observers to ridicule what seemed an untidy fashion, and society equated the loose dresses with loose morals.
Many of the women who wore aesthetic dress were considered bohemian, and the fashion itself never really spread to into mainstream society. By the 1900s the Aesthetic style was out of favour, and had been largely replaced by the Art Nouveau movement, which had similar artistic ideals.