Silver Cod Trophy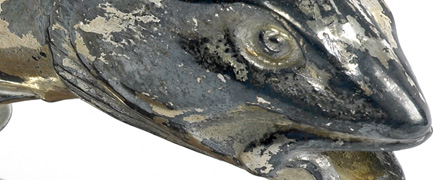 Between 1954 and 1968 the Silver Cod Trophy was awarded annually by the British Trawlers' Federation to the vessel catching the largest amount of fish during the year.
The Winners
The first winner was the 'Arctic Warrior' with the most successful trawler being the 'Somerset Maugham' which won the trophy a total of four times including three times in a row between 1965 - 1967. The trophy, which contains 100 ounces of silver and is a foot high, was made by Leslie Durbin a famous silversmith who also made items for King George VI.
The Trophy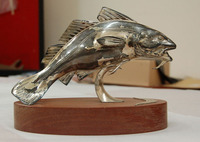 This smaller version of the trophy is the one awarded to Skipper Norman Longhthorp of Willerby and his crew of nineteen on the Hull trawler 'Falstaff' in 1959. The 'Falstaff' was a brand new ship which Longthorp had only taken on that year and he skippered her around Iceland, the North Sea and the Norwegian Coast. The catch was 39, 695 kits, (or 400, 000 stone of fish) caught during 332 days at sea and worth an estimated 130, 000 pounds the equivalent to more than 2 million pounds in todays prices.
The skippers trophy is part of a collection of items donated by one of Longthorp's descendents, includes Norman's scrapbook from the award ceremony, which took place at the Annual Silver Cod Dinner at the Fishmonger's Hall, London. Also in the scrapbook is the menu from the dinner (with cod server as a starter) and a telex report, a BBC radio interview with Longthorp during which he discusses his adventures.
Hull Museums also has a replica of the full size trophy listing all the winners of the event. This original skipper's trophy is kept in the stores.