Contemporary Collections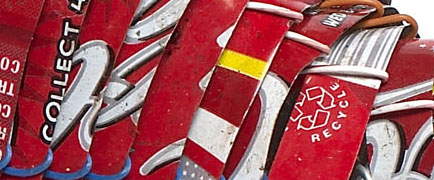 Slavery Displays
Wilberforce House Museum has a small collection of objects in its contemporary slavery displays. These objects highlight the continual legacy of slavery and also explore the issue of human rights. They provide the visitor with a view of modern Africa today.
The displayed objects look at cultural diversity, both in Hull itself and the wider community. Local people from different communities have lent objects of personal significance to illustrate the different cultural identities represented in the city of Hull.
The contribution to British Society by the African-Caribbean community is also represented here in the form of the local sports personality, Clive Sullivan, a Hull born rugby player. His 'This is your Life' book is displayed along side his medals. From the world of entertainment, the museum has Lenny Henry's character costume of larger than life soul singer 'Theophilus P. Wildebeest'.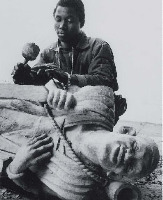 African Artists
Among the displays are works of art produced by African artists on the subject of slavery, freedom and human rights. Samson Lungu's, 'Fingers' and 'The Vendor' portray a personal interpretation on this subject.
The large oak sculpture that is displayed in the contemporary galleries represents a freed African slave and was carved by the Sierra Leone artist, Samuel Samei Marco, who kindly donated this work to the Museum.