Slavery Collections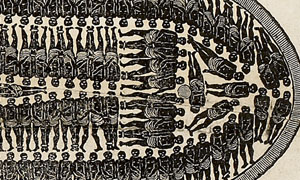 Hull Museums has many objects relating to slavery and the campaign for its abolition; including paper documents, plantation and slavery records, wedgwood medallions and anti-slavery ceramics. The museums also have collections representing the diversity of richness of West African Cultures prior to Western Slavery. This section explores the interesting and varied Slavery collections, what they can tell us about the history of Slavery and insights they can give into the horrors of the Trans-Atlantic Slave trade.
Read about the bibles that were once owned by William Wilberforce (1759-1833) and are now on display in Wilberforce House Museum.
In 2006 Hull Museums commissioned silversmith Jocelyn Burton to produce a major silver centrepiece. This was part of the commemorations for the bi-centenary of the abolition of the slave trade in 2007. This will be a lasting testament to freedom and will hopefully be around for the tercentenary. The centrepiece was funded by the Alderman Rupert Alec-Smith Fund and the Wilberforce 2007 Programme.
Wilberforce House Museum has a small collection of objects in its contemporary slavery displays. These objects highlight the continual legacy of slavery and also explore the issue of human rights. They provide the visitor with a view of modern Africa today
Wilberforce House has many objects relating to slavery and the campaign for its abolition. The collection strengths lie in plantation records and anti-slavery material. Read on to discover more about the slavery collections at Wilberforce House.
Read about the horrific conditions that slaves endured on board slave ships in the Middle Passage and how they were met with discipline and harsh punishment once they arrived at the plantations.
Read about the parliamentary campaign to abolish slavery, womens role in the anti-slavery fight and how growing opposition among the public led to a boycott of sugar produced on plantations.