Events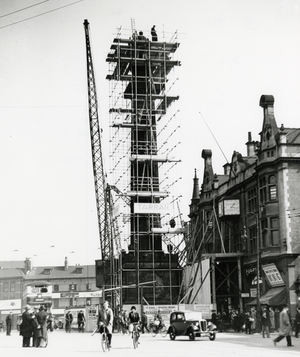 This section contains stories about events that changed Hull. The Wilberforce Monument was originally located near Princes Quay. A story tells of the amazing feat of it's relocation to Queen's Gardens a hundred years later in 1935. Royal visits to the city were important occasions. When Queen Victoria came in 1854, three chairs were especially made for her visit. Other events include the Opening of Hull's Electric Tramway in 1899. This is illustrated in a story about drawings of Hull that were created by F.S. Smith. An event of a disastrous kind is told in a story about an airship that crashed into the River Humber in 1921.
William Wilberforce's monument had become a motoring hazard by the 1930s and it needed to be moved to a new, more convenient location. Find out who moved the monument and what secrets are buried beneath...
Hull's Old Town is an historic area that even today includes many Georgian and Victorian buildings. F.S. Smith created many drawings of its streets between around 1880 and 1920. Some show some early timber-framed buildings that no longer exist. Others depict familiar sights of today like the King William III statue.
Hull grew rapidly outwards from the Old Town from around 1800. F.S. Smith captured the look of the streets in his drawings between 1880 and 1920. They reveal a city of contrasts, showing the housing and workplaces of both rich and poor. He also took his sketchbook to outlying villages and drew them.
In 1639 Charles I (1625-1649) visited Hull, whilst on a journey from London to York. During the 1630s Hull had become heavily fortified, with much ammunition stored there, because the King's relations with Scotland were deteriorating, and war seemed inevitable.