How we used to live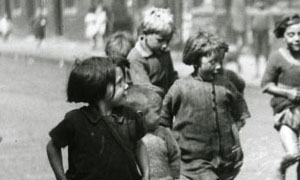 Hull has a very rich and varied history. It has developed over the centuries from a small walled town to a bustling city, and has seen many major historical events that have shaped its history and the lives of the people who lived here. The stories here explore the way we used to live - what clothes we wore, where we used to work and how our lives were affected by wider conflicts and events. It also looks at the lives of famous local born people, their achievements and how they contributed to the City's interesting past.
This section contains stories about various conflicts that affected Hull. The major ones of the last century were the First and Second World Wars. First World War stories tell of the Local East Yorkshire Regiment which had 19 battalions including the 'Pals'. Hull suffered from extensive bombing in both wars, even by Zeppelins. Wartime rationing meant that people had to 'make do' even when it came to clothing. Read how fashion was shaped by it. However, conflict was not just a modern phenomenon in Hull. There are pictures and tales of Hull's early fortifications and guns.
This section contains stories about famous people who have lived in Hull. Probably the best-known is William Wilberforce, the great anti-slavery campaigner. Others include Amy Johnson, James Reckitt and T.R. Ferens. Some stories are about people who depicted Hull such as John Ward and F.S. Smith. One recounts the talents of Madame Clapham who was once Hull's finest dressmaker.
This section contains stories about what people used to do in their leisure time and also about their homes. People have always played games since ancient times. Some stories explore the types of pastimes there once were. Leisure time was not just about playing games. Sewing at home was once a very popular hobby. Leisure activities that took place outside the home included watching puppet theatres. Two stories take a look at what everyday items in the home are made from, including toothpaste!
This section contains stories about events that changed Hull. The Wilberforce Monument was originally located near Princes Quay. A story tells of the amazing feat of it's relocation to Queen's Gardens a hundred years later in 1935. Royal visits to the city were important occasions. When Queen Victoria came in 1854, three chairs were especially made for her visit. Other events include the Opening of Hull's Electric Tramway in 1899. This is illustrated in a story about drawings of Hull that were created by F.S. Smith. An event of a disastrous kind is told in a story about an airship that crashed into the River Humber in 1921.
This section contains stories about the work that people used to do. Some relate to famous Hull companies that are still around today such as Reckitts. Others tell of less well-known craft firms and makers of the past. These include Richardson's furniture company and the goldsmiths of Church Lane. Many Hull soft drink and beer makers used bottles were made that feature Hull landmarks like the Wilberforce Monument. Shops were also important places of work for many.
Clothes and fashion are a part of our every day lives. The costume collections at Hull Museums contain over 6,000 items, ranging from bodices to boots and waistcoats to whalebone corsets. The collection represents every major historical period from the Georgian period to the last decades of the 20th century. This section explores the diversity and development of fashion, showing what we used to wear, where we used to wear it and how we used to live.