Buildings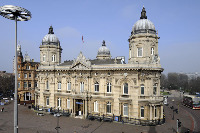 Hull Museums Service began with the collections of the Hull Literary and Philosophical Society, and under the curatorship of Thomas Sheppard the Service and the collections grew, acquiring both buildings and specimens! Read on to find out more about the history of the museum buildings, what they used to display and how they have developed into the museums we have today.
The Ferens Art gallery was completed in eighteen months and opened in 1927. Read about the changes and develpments the gallery has been through from its opening to the present day.
A history of Early Museums in Hull.
This story looks at the origins of the Council's Museum service which began in 1900 when it took over responsibility for the collections developed by the Literary and Philosophical Society. The following year saw the appointment of Thomas Sheppard as its first curator and began a period of rapid growth and development.
The Museum of Commerce and Transport was opened on High Street in 1925 as the first of its kind in Britain. Sheppard was given the Old Corn Exchange building on High Street (now the Hull and East Riding Museum) to set up the museum, and persuaded local firms to carry out the work on the museum for free. It was filled with a transport collection which included carriages, trams, cars and a plane, some of which he begged from other museums.
This narrative tells the story of the Hull and East Riding Museum which is located in what is now known as Hull's Museum Quarter.
At the turn of the twentieth century Hull's art collections were housed in variety of locations. Thomas Robinson Ferens decided that a purpose built art gallery should be constructed and so work began on the Ferens Art gallery in 1926.