Wilberforce House and Hull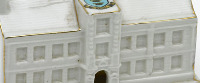 Wilberforce House has had a rich and varied history. It had a prime location in the heart of the old city centre on the banks of the River Hull, which made it ideal for the Wilberforce famliy's merchant business. During its lifetime it has also been used as a private residence, a business premises, and lastly as Hull's oldest surviving Museum. This section explores the life of Wilberforce House, its residents and uses, and its position within the town itself.
Read about the bibles that were once owned by William Wilberforce (1759-1833) and are now on display in Wilberforce House Museum.
Thomas Thompson was a local businessman and MP, who resided at 25 High Street, now Wilberforce House Museum, for nearly forty years. In 1770 at the age of 16 he went to work as a Clerk to William Wilberforce (senior) in what later became a branch of Wilberforce, Smith & Co Bank.
This narrative will discuss the history of Wilberforce house and the various use it has had. Also the activities that took place around Hull's High Street.