Wilberforce - The Man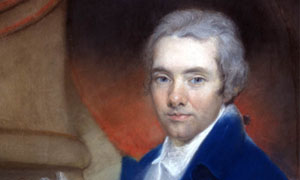 William Wilberforce is one of Hull's most famous sons, and his role in the Anti-Slavery Campaign has left a long lasting world-wide legacy. Although this is his most famous role, Wilberforce was active in many different political and social causes, as well as remaining a devoted family man. This section explores his vast humanitarian role in society, his background and influences, his career in politics and his family devotion, all of which made him the remarkable character he was.
Discover more about at the Wilberforce Family and William Wilberforce's early years.
Read about the impact of Wilberforce's university days and his career in politics.
Read on for details of the slavery campaign, critics against WIlberforce, the religious family man, his death and his legacy.
This narrative tells the story of the Brookes ship model and poster which were made to publicise abolitionists' campaign for the abolition of slavery.They were based on an actual slave ship called the 'Brookes'
William Wilberforce, MP for Yorkshire and passionate campaigner against the slave trade, was commemorated after is death with a monument paid for by public donation. But who designed it? How tall is it? And how much did it cost to buy? Read on and find out.
Thomas Thompson was a local businessman and MP, who resided at 25 High Street, now Wilberforce House Museum, for nearly forty years. In 1770 at the age of 16 he went to work as a Clerk to William Wilberforce (senior) in what later became a branch of Wilberforce, Smith & Co Bank.
William Wilberforce's monument had become a motoring hazard by the 1930s and it needed to be moved to a new, more convenient location. Find out who moved the monument and what secrets are buried beneath...
The Wilberforce Library belonged to William Wilberforce and his sons, Samuel and Robert, and includes diverse subjects such as religion, poetry and foreign travel. Wilberforce's Library is on display to the public for the first time, along with some of his letters written to friends and family, and his journal dating from 1814-1823.
Read about the bibles that were once owned by William Wilberforce (1759-1833) and are now on display in Wilberforce House Museum.